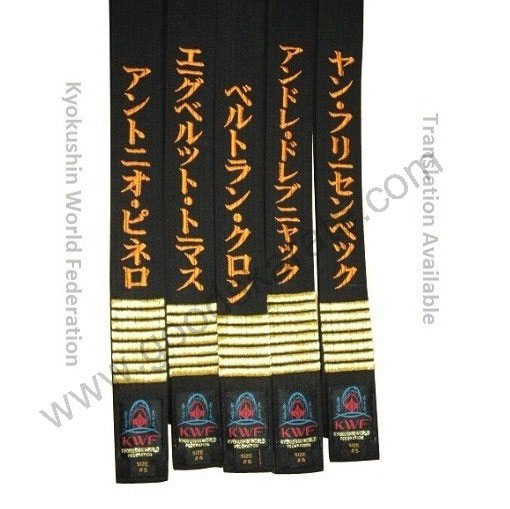 Art # Kyo 952 Kyokushin World Federation Belts
Kyokushin World Federation Belts
One end name of player in japanese katakana, dan stripes
and kyokushin label. Other end regular embroidery
Kyokushin World Federation Belts ( KWF )
in japanese katakana
If you already have your name in Japanese Katakana.
Just send us a picture of your names.

Translation available English to Japanese Katakana.

Translation Web : https://www.sljfaq.org/afaq/english-in-japanese.html

DST Embroidery Design charges only 10 $
and embroidery Charges 10 $
Name embroidery charges on Master Black belt : 20 $
Small or Large name same charges.
Master Black Belt without embroidery Price is : 19 $

IKO Kyokushin Black Belts price : 39 $

Traditinal wide 4cm. Available in any size.

Kindly inform total length on belt in CM

Minimum order required 1 pc

Price depend on quantity.

Special Best quality heavy weight belt.
Shipping charges will be charge 500 gram.

Quantity
Unit $
1 pc to 99 pcs price
37
100 to 999 pcs price
33
More than 1000 pcs
29