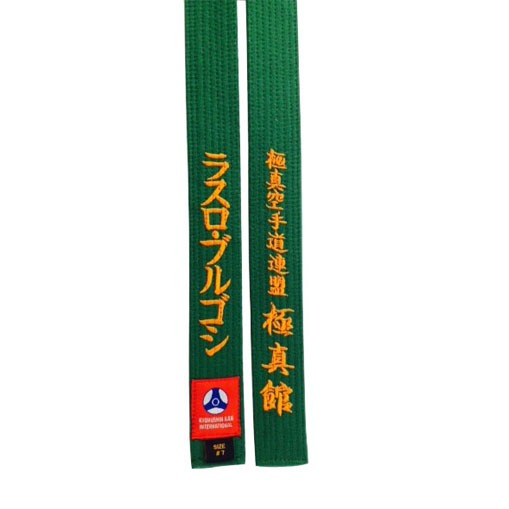 Art # Kan 945 *3 Color Belts With Name
Color belt with one end Kyokushin-kan organization Kanji
Other end , Japanese Name or English Name or Dojo Name
Available in all sizes and all Colors.

If Customer already have Japanese name than
He can send us photo of name by emails
If Customer have not Japanese name than He can inform English Name.
Translation available Free of Cost
Translation Web : http://www.sljfaq.org/afaq/english-in-japanese.html

DST Embroidery Design charges only 10 $ and embroidery Charges 10 $
Name embroidery charges only 20 US$ per Name
Small or Large name same charges.
Price depend on quantity
Special Best quality heavy weight belt.
Shipping charges will be charge 350 gram.
Quantity
Unit $
1 pc to 99 pcs price
25
100 to 999 pcs price
15
More than 1000 pcs
11